Local. Trusted. Family Owned.
Event Lighting Saanich, BC
Party Lighting
Saanich, BC Residents Trust
After investing so much in catering, event planning, souvenirs, and advertisement, the last thing you want is to have a poorly illuminated event venue. Here at Light Right Outdoor Lighting, we are a committed and licensed event lighting rental company passionate about making our customers have fulfilled events. We would make your event wonderful for you and your guests.
With the best professional event lighting design, we can make your event one that will not leave the minds of your guests for a long time. Out of all the other event decorating, lighting has the ultimate power to transform a venue completely.
The right lighting is essential to have your guests impressed and active. If the lights are too bright, your guests wouldn't be comfortable and will do all they can to protect their eyes, like leaving your event. On the other hand, if the lights are too dark, your guests won't follow the activities at your event. They might even stumble on the way to their seats or find it hard to locate their drinks and food. Contact us for your event lighting Saanich, BC, and let's make your event extraordinary.
Searching for Saanich
Party Lights Near Me?
Are you looking for Saanich party lights near me? Look no further! Our adept professionals provide a wide array of colorful and highly functional lights that will last throughout the event. Whether it's a wedding, concert, corporate event, or birthday party, we've got you covered. We use some of the best LED wedding lights and products in the industry that will make your event successful. With our party lighting Saanich, BC, you and your guests just need to enjoy the perfect amount of ambiance that our outdoor event lighting offers.
We offer uplighting wedding to make your big day bright and colorful. We also use different types of wedding lights outdoor, including spotlights, string lighting, elegant chandeliers, beautiful candles, and much more. Please, don't hesitate to tell our super-friendly and courteous professionals what you envision for your big day, and you can bank on us to deliver.
Getting the proper lighting for your event doesn't have to be so much of a bother, as our team of professionals knows the nitty-gritty of event lighting and will do a perfect job. We assure you that we will create free estimates according to the nature of your event and project needs, so you don't have to worry about overcharging. What are you waiting for, Saanich? Contact us right away for event lighting near me.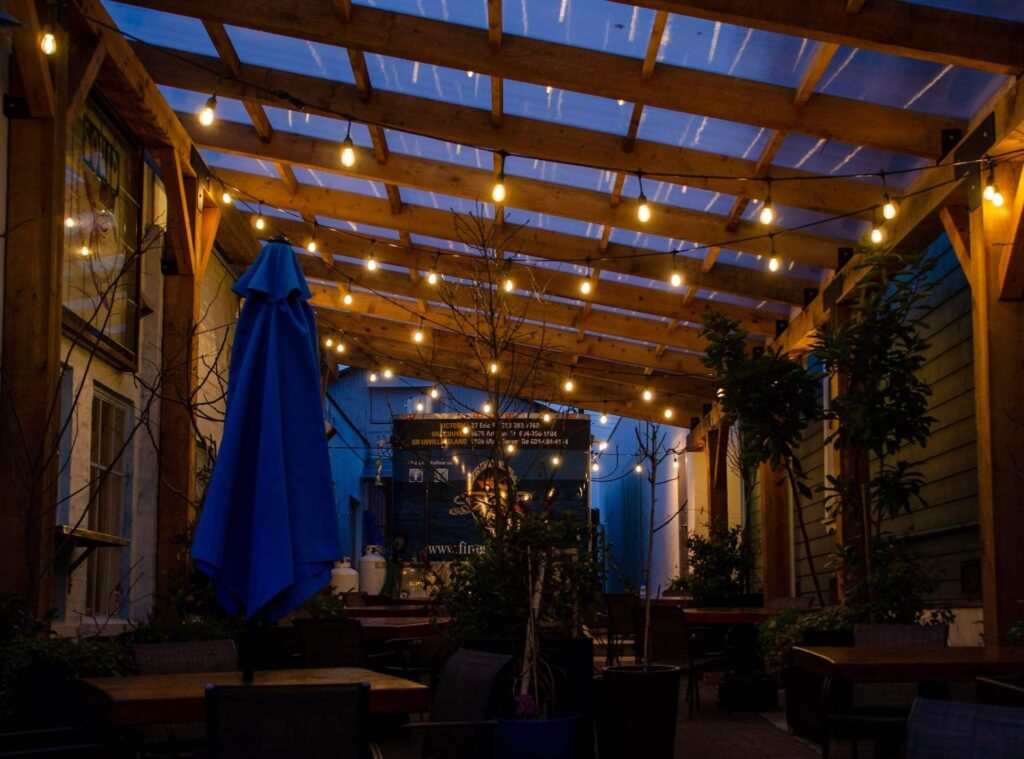 Professional Wedding Lights in Saanich, BC
Call Today for Outdoor Event Lighting
in Saanich, BC!
Known as one of the oldest agricultural settlements in British Columbia, Saanich is a location rich in history, evident in many of the ancient architectural structures in the area. If you're in Saanich, you can enjoy the scenic views of the mountain parks, flowers, serene forests, and beaches. You can even take a walk with your dogs on the numerous beautiful trails.
Do you need a reliable and innovative light installation company to install, maintain, repair or takedown Saanich party lights near me? If yes, Light Right Outdoor Lighting is the right company for you. If you have any questions regarding our services, please don't hesitate to contact us. We look forward to making your event a beautiful and memorable one.

We also offer top-rated holiday lighting and landscape lighting services.