Local. Trusted. Family Owned.
Event Lighting Saanichton, BC
Party Lighting
Saanichton, BC Residents Trust
Are you looking for the professional services of an event lighting company in Saanichton? Look no further! Light Right Outdoor Lighting is here to help you achieve the event of your dreams.
Our professional event lighting services will ensure that your event becomes one to remember. We have experts who would help with installation and removal services. We would also help you store your party, wedding lights, and decor for your next event. Our services are customized for numerous occasions like corporate and birthday parties, wedding receptions, and much more.
You don't need to buy lights when you can rent sturdy and affordable lights from our event lighting rental. We have a large inventory of lights to make your event beautiful. Whether you're going for a small or large party, we will offer you a hassle-free experience from start to finish. We will work closely with you or your event planner to make you and your guests fully satisfied and impressed. We are your reliable company for event lighting Saanichton, BC.
Searching for Saanichton
Party Lights Near Me?
Some of the few examples we have in our inventory include uplighting wedding options, floodlights, wall washers, wreaths, garlands, bistro lighting, snowfall lights, chandeliers, color-changing led lights, motif lighting, and much more. We will turn your wedding lights outdoor venue into a spectacular space. Let us give you the best outdoor event lighting services you will find around.
With party lighting Saanichton BC, we can add a dramatic feel to your event. We will use our various lighting options, including spotlights and chasers, to ensure your guests have a wonderful experience. We also use a wide array of colors which can influence the mood and tone of your guests. Blue, for example, can give an impression of elegance, while red can create a subtle effect of romance.
Our professionals create a suitable design for events within the customer's budget. And you can trust us to deliver only the highest quality services. We are available to offer you free estimates for your projects.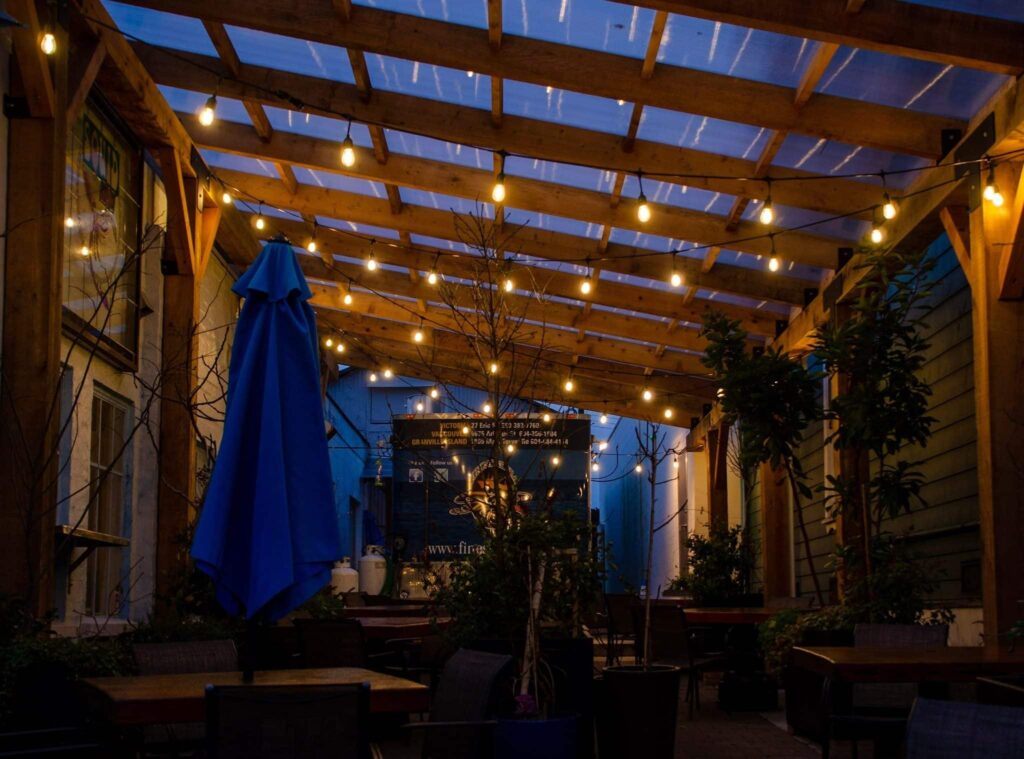 Professional Wedding Lights in Saanichton, BC
Call Today for Outdoor Event Lighting
in Saanichton, BC!
We are the right company for event lighting near me. Our versatile company can make your event joyful and colorful. We have experts who can do something as simple as stringing fairy lights around your tents or venue or using different lights to direct the activities of your event.
Saanichton is located in Central Saanich and isn't so far from the capital city of British Columbia, Victoria. If you need solitude, this village has places with scenic views where you can enjoy some quiet. You can also appreciate the spectacular ocean views around the area. Don't forget to check out the farmers' market and the wineries for fresh and quality products.
Light Right Outdoor Lighting proudly offers world-class event lighting services ranging from rental and installation to maintenance and takedown in Saanichton and its environs. Trust us; we are the best rental company to get your Saanichton party lights near me from. If you have any questions about our services, please ask us immediately. We look forward to brightening your event.