Local. Trusted. Family Owned.
Landscape Lighting Saanichton, BC
Outdoor Landscape Lighting
Saanichton, BC Residents Trust
Are you in need of a top-notch landscape lighting company in Saanichton? If yes, Light Right Outdoor Lighting has experts highly skilled in the art of exterior landscape lighting for homes and businesses in the beautiful village of Saanichton and its environs. Our services are available all year round at affordable prices.
With professional outdoor lighting installation, your home or commercial building will get security and beauty. Hiring experts to help with landscape lighting installation is an excellent investment for your walkways, driveways, parking areas, patios, outdoor recreational spots, and anywhere else on your property. Our adept professionals have on their hands some of the best products and tools in the industry.
Our services include installing, maintaining, repairing, or taking down your landscape lighting Saanichton BC. We will enhance and illuminate your landscape with the right landscape lighting design. Our professionals have an excellent eye for detail and would consider everything you want for your project.
Searching for Saanichton
Landscape Lighting Near Me?
We have so many designs for you to choose from, and we are open to getting design ideas from you. Once we have picked the perfect design that suits your style and property, our experts will get to work immediately. Let us be your number one choice whenever you need landscape lighting installers near me.
Our maintenance services include replacing burnt-out bulbs and adjusting the light fixtures on your plants so they won't stunt their growth. Our experts provide on-site consultation for landscape lighting systems not installed by our company. You can reach out to us for the maintenance of your outdoor landscape lighting Saanichton BC.
We use low-voltage LED lights that won't allow your electrical bills to pile up. We also have lights with motion sensors to ensure the lights only come on when needed. In addition, we protect your lights with dust- and water-resistant coverings to prolong their lifespan.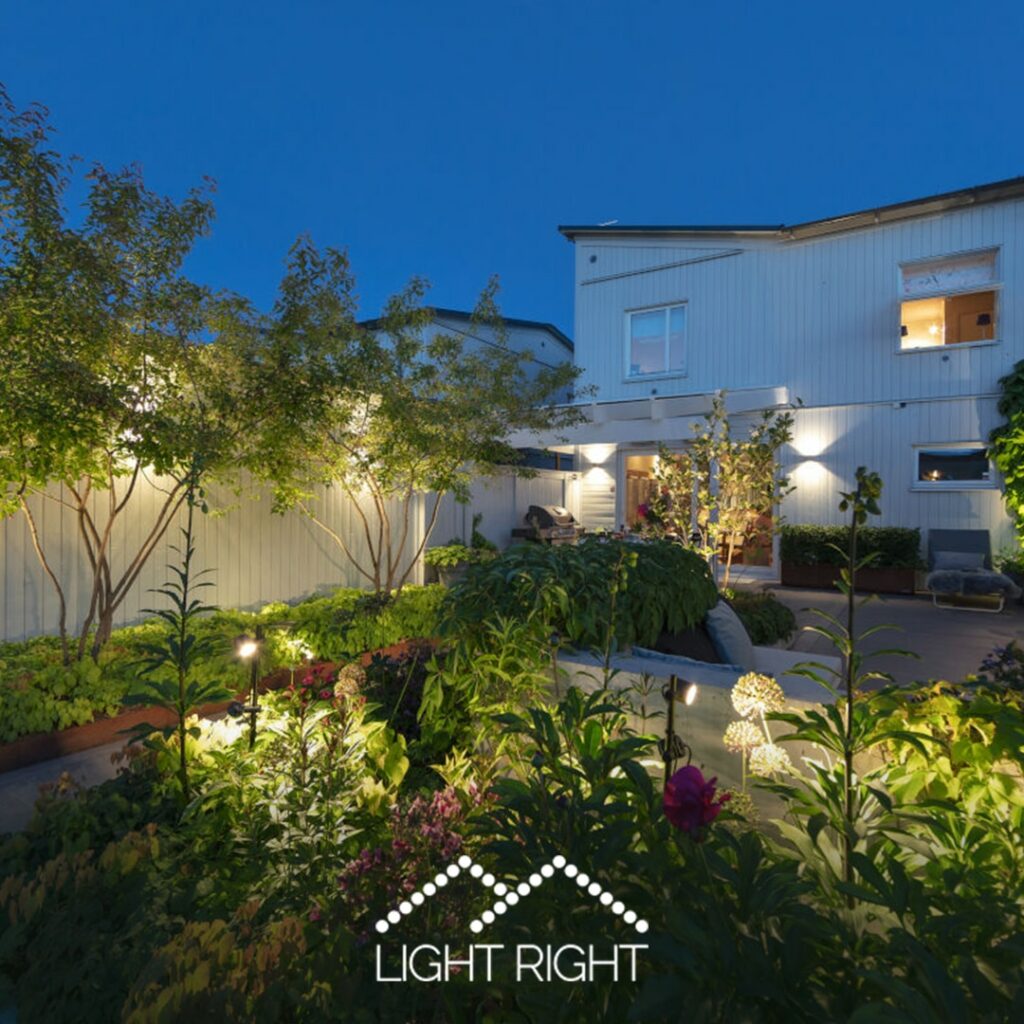 Professional Landscape Lighting Design in Saanichton, BC
Call Today for Landscape Lighting
Installation in Saanichton, BC!
Outdoor lighting brings life to nighttime dining or entertainment. If you're going for a romantic feel for your diners or a relaxed ambiance for family and friends, our experts will help you achieve that. We will install lightings that accentuate your decks and patios. Contact us today to get top-tier Saanichton landscape lighting near me. With the correct lighting, our experts will give you more space to use on your property anytime.
Saanichton is located on the Saanich Peninsula and is well-known for flowers and rose gardens. You would find stables, parks, forests, farms, shops, restaurants, and much more in this beautiful village. Visit Centennial Park on Wallace Drive, which features sports fields and pitches, a children's playground, and picnic shelters to have a hearty meal with your family and friends. The good news is that dogs are allowed.
If you're interested in exploring every area of your home, even during nighttime, without being scared, then you need to get a Saanichton outdoor lighting installation near me. Our landscape lighting professionals will ensure that your building becomes the best-looking in the neighborhood and safe from intruders. Contact us right this minute and get free estimates for your project.