Local. Trusted. Family Owned.
Outdoor Christmas Lights Saanichton, BC
Christmas Light Installers
Saanichton, BC Residents Trust
Christmas is one of the most important holiday seasons in the world. It is a time for family, friends, and communities to dine, dance, and laugh. With professional Christmas lighting, you can make this beautiful season cheerful and bright for you and everyone who comes to your home or commercial building.
Here at Light Right Outdoor Lighting, we have experts who know about different Christmas lights and how to decorate them and make your property look appealing. Our holiday lighting company has been in business for over seven years, and during this period, we have served numerous customers who have been delighted with our services.
Our Christmas lighting services include picking the perfect outdoor Christmas lights Saanichton BC. Then we install them around your residential or commercial property. We are also available to run maintenance checks and repair any issue that arises anytime during the holiday season. And if you need us to remove the lights for you when the season is over, we will be right at your doorstep.
Searching for Saanichton
Christmas Lights Near Me?
The importance of using Christmas lights around your property cannot be overemphasized. Using these lights is an inexpensive marketing strategy to boost sales and make your business profitable. You can also brighten up your employees' mood, which makes their work performance excellent. Don't let the Christmas season pass you by without getting the services of our licensed holiday light installers Saanichton BC.
All connections made by our installers are safe and secure and won't put you or your property in harm's way. We also ensure to keep the wires out of the reach of your curious kids and pets.
If you want correct lighting placement that looks professional, why not hire a professional Christmas lighting company like us? Our experts will do all the hard work for you and ensure that your house or commercial property looks stunning when your guests or customers arrive. Don't go through the hassle of installing holiday lights yourself when you can spend quality time with family and friends or drink hot cocoa to warm yourself up. We are the perfect choice if you need to get Christmas light installers near me.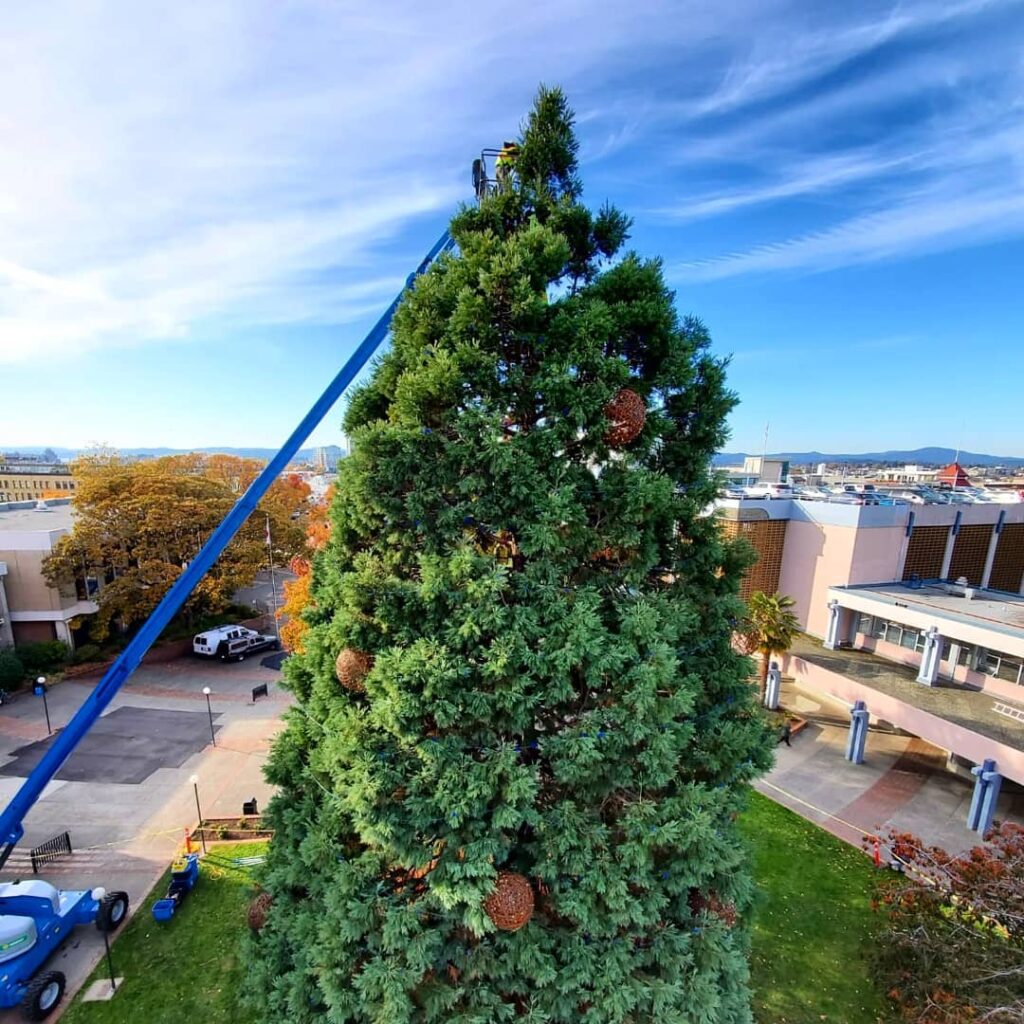 Professional Holiday Light Installers in Saanichton, BC
Call Today for Holiday Lighting Company
in Saanichton, BC!
Saanichton is home to several restaurants and hotels which offer mouthwatering meals and drinks and a home away from home feel. Whenever you are in this beautiful village, you can stay in Quality Inn Waddling Dog, where you will get easy access to free WiFi, comfy beds, and soft bedspreads with quality service from the super-friendly and attentive staff. This hotel is on Mount Newton Cross Roads.
Are there many Saanichton Christmas lights near me, and you don't know which ones to use for your home or business? Light Right Outdoor Lighting is here to the rescue! Our Christmas light installers Saanichton, BC will use bright and colorful lights that enhance the beauty of your property. Don't hesitate to call us whenever you need a Christmas lighting service near me. We would help generate free estimates for your project immediately.