Local. Trusted. Family Owned.
Outdoor Christmas Lights Victoria, BC
Christmas Light Installers
Victoria, BC Residents Trust
Light Right Outdoor Lighting is the perfect holiday lighting company you need to infuse the holiday spirits into your property. Christmas is a magical time to celebrate with your family and friends; it is also a great time to look forward to what the new year brings while reflecting on the previous ones.
If you need to add a cheerful mood to your homes and offices during the holiday season, we have some of the best professional Christmas lighting experts who would help achieve that with the highest quality LED lights. We use LED lights because they consume less energy when compared to traditional incandescent lights. They also last longer, so you can use them for many future holiday seasons. Stop looking for Victoria Christmas lights near me, and call us today!
Our professionals are simply the best at what they do as they keep the electrical wires out of the reach of your children or pets. We know kids are curious and could be attracted to colorful and bright lights. What are you waiting for? Get the services of our holiday light installers Victoria, BC. 
Searching for Victoria
Christmas Lights Near Me?
Finding the right lights that complement the exteriors of your homes or commercial building shouldn't be much of a hassle when you can get Christmas lighting services from a credible company with excellent ratings and reviews like ours. We are very passionate about preserving the integrity of your buildings, which is why we make all connections safe and secure. You can contact us immediately for your Christmas lighting service near me. 
We have different colored lights in various shapes, styles, and sizes to accentuate every part of your building. From waterproof strings and fairy lights to tree and icicle lights, we have got you covered. Our Christmas lighting company offers services tailored to your needs and ensures that your budget is according to your project size.
With the holiday season comes many activities and events, which ultimately means that many people will be on the move. You can take advantage of the massive traffic of potential customers by getting Christmas light installers near me like us. We will help place the lights at strategic places, sure to attract people.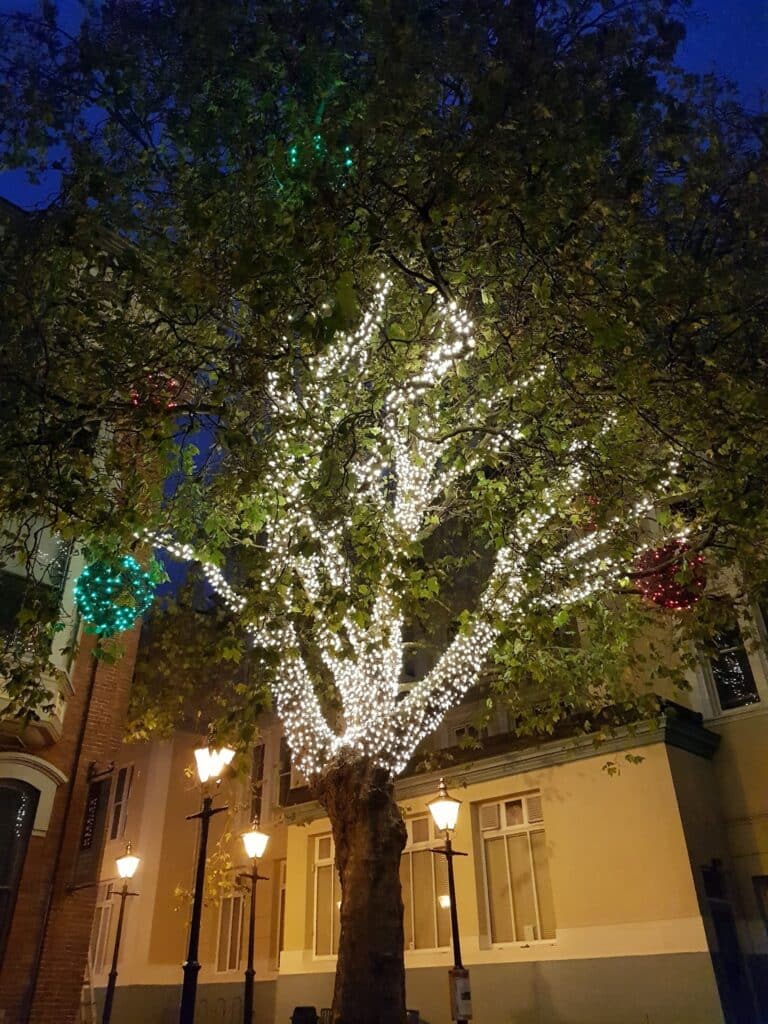 Professional Holiday Light Installers in Victoria, BC
Call Today for Holiday Lighting Company
in Victoria, BC!
Terrific outdoor Christmas lights also give your business more integrity and generate more trust in old and new customers. Hire our holiday light installers Victoria, BC to get your business advertised without having to spend much.
Victoria is a beautiful city with many locations for residents and visitors to explore. You can visit Butchart Gardens, located in Brentwood Bay. This beautiful location has many vivid floral displays. Trust us, the water features in this garden are to behold. The staff is friendly, and there is impressive parking. There are also places to get great coffee, drinks, and sumptuous food.
Are you searching for Victoria Christmas lights near me for your home or business? If yes, your search is over! Light Right Outdoor Lighting is your go-to option for experts who would help install, maintain or repair your outdoor Christmas lights Victoria, BC. We excitedly await any questions you have about our services and hope to work with you. Contact us to get free estimates for your projects right away.