Local. Trusted. Family Owned.
Landscape Lighting Victoria, BC
Outdoor Landscape Lighting
Victoria, BC Residents Trust
Are you searching for top-notch landscape lighting installation experts in Victoria? Search no further! Light Right Outdoor Lighting has a team of knowledgeable and skillful professionals who use some of the best equipment in the industry to give you a highly satisfactory job. 
As a licensed landscape lighting company, we are passionate about providing first-class services to all our residential and commercial customers. Our experts will work with you to choose the perfect lighting that complements your property. We would find the ideal landscape lighting design, location, and style tailored to your project needs. Not to worry, you won't have to break the bank as our services are customized according to your project. There are also instant and free estimates available for you.
Searching for Victoria
Landscape Lighting Near Me?
If you're searching for Victoria landscape lighting near me, look no further! Apart from enhancing the natural beauty and features of your residential or commercial property, landscape lighting is a great way to ensure no dark spots on your property. Well-illuminated surroundings help protect you, your family, or your workers from intruders and dangerous animals lurking around the bushes. Strategically placed landscape lighting Victoria BC, especially boundary or perimeter lighting on your hedges or fences, can ward off unwelcome visitors. 
Our professionals install low-voltage LED lights to bring into view your property's exquisite architecture, colorful gardens, trees, and shrubs. Contact us immediately, and let's illuminate these unique features. Our professional outdoor lighting installation will also make you feel comfortable and safe to move around your property at night. We look forward to being your number-one company for outdoor lighting installation near me.
You don't have to go through the hassle of placing lights randomly around your building when you can get the services of landscape lighting installers near me to give your property an uplifted look. Rest assured, you will get the best quality services from our courteous and super-friendly professionals. Allow us to make your building the envy of the neighborhood in no time.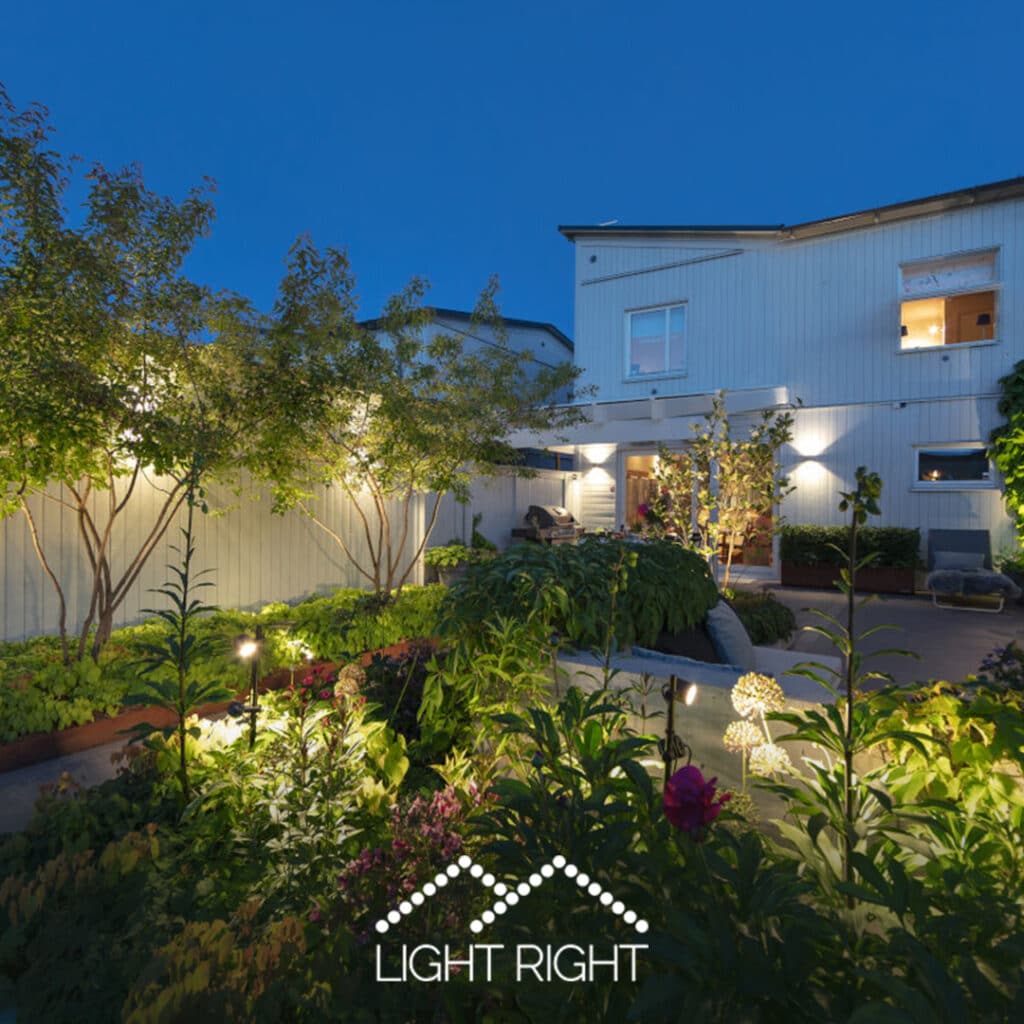 Professional Landscape Lighting Design in Victoria, BC
Call Today for Landscape Lighting
Installation in Victoria, BC!
Our services include installing, repairing, and maintaining your exterior landscape lighting. Rest assured, everyone on our team follows the necessary safety protocols and is well-equipped with safety gadgets to ensure that all electrical connections are safe and secure. You can reach out to us for your outdoor landscape lighting Victoria, BC; we promise to deliver a 5-star-worthy job. Call today for landscape lighting Victoria, BC residents trust! 
The capital of British Columbia, Victoria, has acres of gardens and is appropriately regarded as the "City of Gardens." This beautiful city has historic Victorian architecture, including the Craigdarroch Castle, which is located in Joan Crescent. Visit the Royal BC Museum on Belleville street. This museum features a collection size of over seven million and has welcomed hundreds of thousands of visitors since its inception in 1886. There, you would grasp the natural history of Victoria and enjoy the artistic displays. You will find a gift shop to get fantastic items too.
If you need professional Victoria landscape lighting near me, Light Right Outdoor Lighting is your go-to company. Our professionals are available around the clock to answer any questions you have regarding our services. We look forward to working with you.